Hello,
I'd like to introduce our new and improved product to that we have been selling for the past 2 years now, and have become a legitimate L.L.C. We are located in the beautiful city of San Diego, CA.

Tac Rak
has to offer custom rifle racks at an affordable price. These custom rifle racks are made of all steel for strength and durability, and are coated with a generous layer of rubber all around to prevent damage to rifles from use over time. These were created mainly with safety in mind, with an added splash of style, and originality. These were designed to get your rifles out from under beds, behind doors, and closet corners, and
OUT OF REACH OF CHILDREN
!
There are two standard models at the moment, and each is made for 5 rifles.
With its unique locking bar design, these require only enough space as it is wide to be fully functional.
These racks utilize your standard Master-Lock, and have a simple method of locking. These have 2 male prongs on each side and is opened by simply pulling the locking bar towards you. There are 2 locking hole locations for rifles that require a little more space.
The bottom portion is a nicely caged bottom shelf that serves as the resting place for the butt stocks.
The whole point is that the locking bar is at a strategically placed height along with the height of the caged area and that you cannot lift and remove the rifles up and out as long as the bar is locked.
I know these are not safes, and are not 100% theft proof. We know this. Neither is a safe. These are designed as a means of nicely displaying your rifles out of the way, but with some added security, and at an affordable price.
Each rack is handcrafted here in the USA
The Patriot
is the floor model, and can easily be anchored to any floor permanently, or free standing. The choice is yours.
$170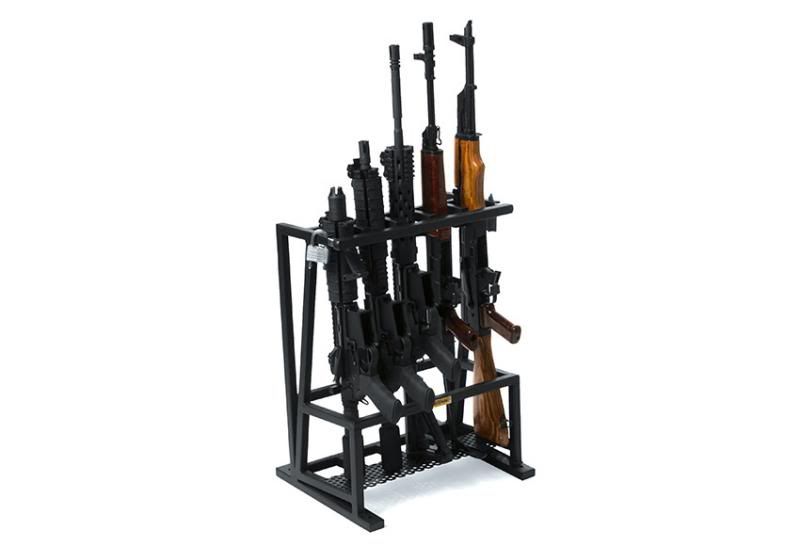 The Rogue
is the wall model, and can be easily be mounted to a stud or 2 studs, the placement choice is yours.
$155
We really enjoy hearing what our customers want, and the racks they have come up with. If you have a custom order, please shoot us an email and well get it taken care of. The possibilities are endless with Tac Rak.
And by custom, for example, could be a certain amount of rifles you want, the spacing for the rifles, ammo shelf, or a specified locking height to accommodate certain and all rifles. Like I said, we like hearing what you have come up with, and make it happen.
Please check out my website,
www.tacrak.com
(Were fixing the little bugs, but the contact form does work)
Either shoot us an e-mail:
[email protected]
for any questions or to order.
Or PM me here, but I do check the e-mail more frequently.
Thank you for taking the time to read this, and we hope to do business with you!